The Extended Stay America Hotel Credit Card Authorization Form allows a personal or company credit card to pay for a room of a guest staying at an Extended Stay America location prior to check-in. This document allows the employees working at reception to clearly see that the individual responsible for the credit card authorizes its use for a guest (who is not the cardholder). The Extended Stay America hotel chain, along with providing an affordable temporary housing option, has a streamlined and easy to use online portal. While we've supplied the PDF and Microsoft Word document below of the requisite authorization form, we've also attached a link to the online authorization form which will be especially convenient for those without fax machines.
How to Write
Step 1 – If you've chosen to submit your credit card authorization via fax, download the form in either Adobe PDF or Microsoft Word (.docx) to begin.
Step 2 – Begin filling out the form be supplying the following information in the topmost fields:
Hotel name
Individual/Business/Group or Event name
Reservation confirmation number (may need to call to retrieve this info)
Date of arrival/event
Credit card billing address
City/State/Zip/Country
Contact phone number
Email address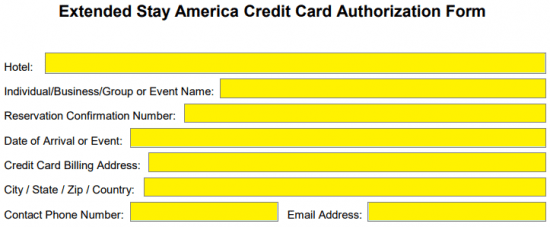 Step 3 – You are permitted to specify the exact services you wish to pay for with the credit card in question. Choose from the following options:
Room and tax
Minibar
Internet
Room service
All banquet charges
Phone charges
Breakfast
Pay TV
Parking
All charges
Below this, you can authorize an amount to be applied to the credit card before continuing on.

Step 4 – Finally, you will need to supply the credit card information and the date. Print off the document and provide your signature. You will also need to check the small check box at the bottom of the page to show that you have read and agreed to the guest privacy policy. Fax the completed form and any supporting documents to the Extended Stay America location of your choice to complete the process.