Medicaid Prior Prescription (Rx) Authorization Form
The Medicaid Prescription Drug Prior Authorization Form is a document used by Medicaid beneficiaries to request coverage for a drug that is not on the formulary. That is to say, a drug which is often more expensive and therefore not on the preferred drug list (PDL). The healthcare practitioner prescribing the medication may be able to access a state-specific form for prior authorization. However, the one linked below can be used universally and will serve the purpose of requesting coverage. The document, once completed in full, can be signed by the prescribing physician and faxed to the Department of Health or like organization in the state in which the patient resides.
How to Write
Step 1 – Download the Global Medicaid Prior Authorization Form in PDF to begin.
Step 2 – The top-most fields will require the plan/medical group name, phone number, and fax. Below this, under "Patient Information," supply the following data:
Full name
Phone number
Address
Date of birth
Sex
Height
Weight
Allergies
Authorized rep name and phone number (if applicable)

Step 3 – The patient's primary and secondary insurance name and ID numbers will be required as applicable.

Step 4 – The prescribing physician will then have to supply their personal information. All of the below data must be submitted in the empty fields.
Name
Address
Specialty
Requestor (if different than prescriber)
Office contact person
NPI number
Phone number
DEA number
Fax number
Email address

Step 5 – The name of the medication can be entered in the top-most field of this window. Identify whether this is a new therapy or a continuation. If a renewal, indicate the duration of therapy and the date the therapy was initiated. If it is a renewal, you will also need to explain how the patient received the medication.
The dosage, frequency of use, length of therapy, and quantity requested of the drug must be indicated. Below this, supply the administration method and location by selecting the appropriate box.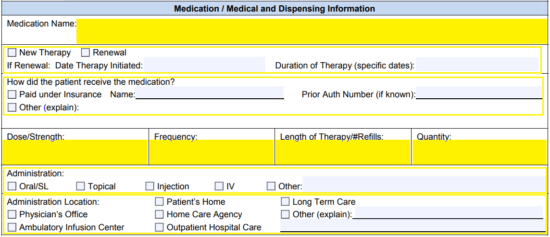 Step 6 – The patient's name and ID# can be supplied at the top of the second page. Under window number one (1), indicate whether or not the patient has tried other medications in order to justify the reasoning for prescription of the non-formulary medication. If yes, complete the windows below requesting information on previously tried and failed alternatives.

Step 7 – The second window asks that you list the diagnoses as well as the corresponding ICD-9/10 codes.

Step 8 – All clinical information which will help plead the case for coverage, and the necessity of the non-preferred drug can be entered in the bottom-most field. If you plan to attach evidence, check the attachment box and supply whatever documents will help support your claim.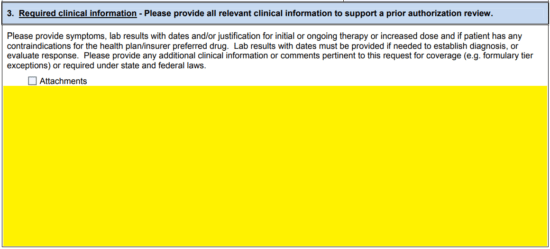 Step 9 – Read the attestation, and supply the day's date. Once printed, sign the document (if you are the prescriber) and fax the completed form to the appropriate state department.