US Bank Direct Deposit Authorization Form
The US Bank direct deposit authorization is an extremely convenient way to receive your paychecks or Social Security Payments. Below we've provided the form necessary should your employer/payroll department not supply their own authorization form. To complete this simple document, you need only provide some basic personal information along with your bank's routing number (list found linked below), and the account number of the checking or savings account you wish the funds to be deposited into. The chief benefit of setting up this type of payment is the immediacy of the available funds; as opposed to waiting for a check to clear once deposited at the bank, your funds will be usable as soon as you're paid what you're due.
How to Write
Step 1 – If your company/employer doesn't provide their own direct deposit form, you can download US Bank's form here. As soon as it's open on your computer, read through the entire document to ensure you're fully aware of the information you're providing and steps required in setting up direct deposit.
Step 2 – Your name should go at the top of the form. Next to your name, the date should be entered. You will see two fields below this; into those you must enter your routing number and account number.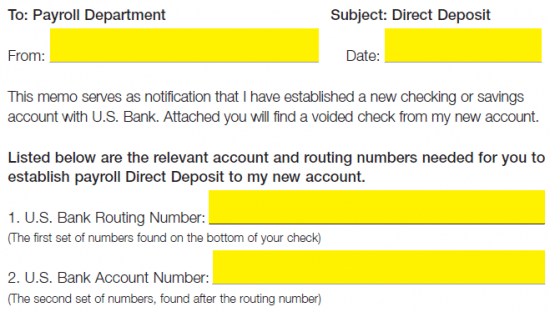 Step 3 – Check one of the boxes to indicate whether you're wanting funds transferred to a checking or a savings account. Next, the following information will be required before printing and signing the form:
Full name
Employee SSN
Date
Phone number