Chase Bank Direct Deposit Authorization Form
Those looking to enjoy instantaneous deposits of funds into their Chase Bank checking or savings account will be required to employ the Chase Bank direct deposit authorization form. The form requires very little in the way of information but it must, once completed, be accompanied by a voided check and delivered to the Chase customer's payroll officer/employer. Be sure to have your routing number (list linked below) and your account number on hand before downloading and filling in the form.
How to Write
Step 1 – To get started, download the form and open it up in your web browser or PDF viewer. You may choose to complete it online or fill it in by hand.
Step 2 – Start off with your name. Enter it into the first field at the top and then provide your full home address in the remaining fields.

Step 3 – Next, you're going to need to enter in your bank account information to provide your employer with the means to directly deposit your paychecks. Choose between your checking account and your savings account. Next, enter in the account number followed by your bank's routing number.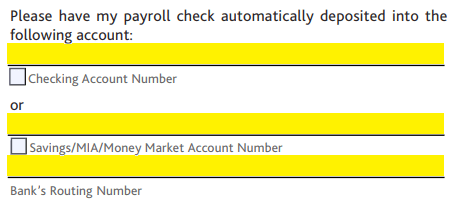 Step 4 – Before printing off the document, provide your authorization by giving the name of the business at which you are employed. Note that the authorization will remain in effect, as stated, until written notice has been provided by you and you alone. Enter in the date before printing off the form, signing it, and delivering it to your payroll department with a voided check in tow.