PNC Bank Direct Deposit Authorization Form
The PNC Bank direct deposit authorization form is used for those who are requesting a direct deposit from their employer, from a government agency, or from a non-government agency. More often than not, a form of this variety will be on-hand at the company or through the agency, however, should this not be the case, PNC has offered their own PDF to be completed with all of the requisite information. Once the form has been completed and processed, it will allow for the secure and immediate payment of any regularly scheduled funds.
How to Write
Step 1 – You can find the document on the PNC direct deposit homepage, or you can download it here. Open it up on your computer when ready.
Step 2 – At the very top of the form, you're going to be able to choose between "New Request" and "Change Request." Select the applicable option before continuing. Next, enter the below information into the appropriate fields.
Your name
SSN
Address
Company name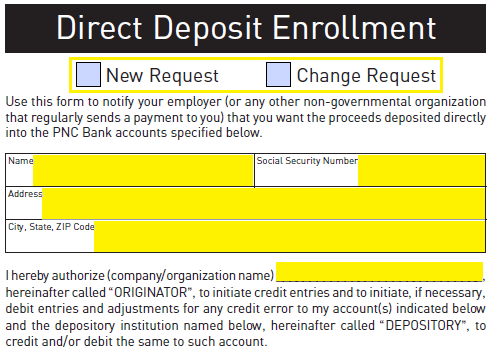 Step 3 – The depository name (bank name) has been filled in already; however, you must still enter in your routing number in the space below it. To the right select the account type by checking the proper box and key in your account number. In the bottom right-hand box, you can specify whether you would like the receive the net pay of each paycheck or a fixed amount.
Step 4 – This step, as the form would indicate, is optional. It is not mandatory to choose a secondary account to deposit a portion of the paycheck or agency check. However, should you wish to do so, enter in the account information as you did for the primary account.
The date must also be entered at the bottom of the form. Your signature can be submitted once the form has been printed off.