Super 8 Motel Credit Card Authorization Form
The Super 8 motel credit card authorization form is a basic document which allows the cardholder to officially authorize the use of their card by a third party staying at a Super 8 motel location. This form should be sent in prior to arrival, it must be sent via fax, and it must be signed by the cardholder. If the guest arrives at the Super 8 motel without wishing to pay for the room using a credit card with which the reservation was placed, they will be rejected should that reservation not also be accompanied by this credit card authorization form. For more info, scroll down.
How to Write
Step 1 – Download the document in Adobe PDF and open it up in your PDF viewer.
Step 2 – Start off by entering in the guest information into the first portion of the form. The following is required:
Guest name
Arrival date
Address
Length of stay
Phone number
Driver's license number
You must also select the non-smoking room type from the following list:
King
Double Queen
King Suite
Jacuzzi King Suite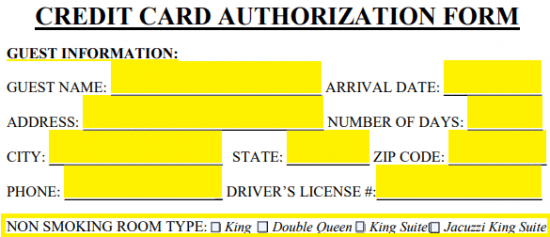 Step 3 – The company name, address, phone number and fax number must be entered in here along with the contact name.

Step 4 – Enter in all the necessary credit card information (name, type, number, exp. date, cvv) and set the amount to be charged to the card. Below all of this, you should be able to notice two check boxes; select whether you want this to be a one-time charge or a recurring charge. Print the form, sign it, and send it into Super 8 to finish the authorization process.