Best Western Credit Card Authorization Form
The Best Western Hotel credit card authorization form is a document which allows the cardholder preauthorization for the use of their credit card for a guest staying at a Best Western location. Best Western has made their form simple and easy-to-use, demanding very little in the way of information from the cardholder. Typically a credit card is needed to reserve a room at a hotel, motel, resort or inn. What this document does is allow the individual checking in to use the credit card (which is under a company or employer's name) to pay for the room as opposed to simply retaining it prior to arrival. Below we've provided a link to all Best Western locations so that individual fax numbers and hotel information can be obtained.
How to Write
Step 1 – Download the document below or here to obtain a copy in Adobe PDF. The document should be similar to the one shown below, it should be completely blank, and it should be fillable in your web browser or PDF reader of choice.
Step 2 – To begin, simply enter the 16-digit credit card number into the topmost fields of the form. Below this, you should enter the expiration date.

Step 3 – You can authorize up to three guests to use your credit card. Write the name of each individual who has authority to charge the card in the three available spaces. The time when the guest(s) will be checking in, and checking out, must be specified as well.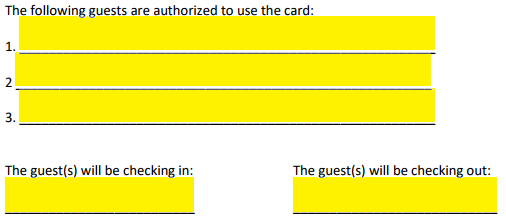 Step 4 – This form allows the cardholder to authorize the use of the card for the purposes of paying for the room exclusively, or for paying for the room as well as the incidentals (mini-bar, room service etc.); select one or both of these options. Supply next the printed name as it appears on the card, and your signature along with your contact information (fax and phone numbers).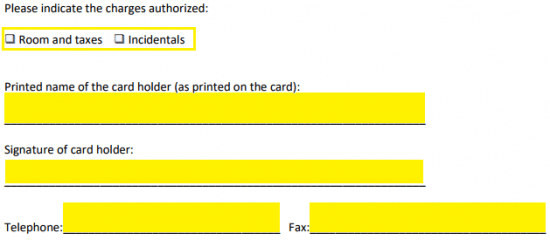 Step 5 – Fax the completed form to the Best Western location of choice prior to the guest's arrival to provide your consent of them using your credit card.