Emblem Health Prior Prescription (Rx) Authorization Form
In order to request that EmblemHealth add a drug to their formulary, an individual will be required to submit their Pharmacy and Therapeutics Commitee Addition to the Formulary Request Form. Although there is no specific form for requesting prior authorization for a drug, EmblemHealth's online PromptPA allows patients and prescribers to request coverage. A link for this website has been provided below. For those wishing to request that their suggested drug be covered under EmblemHealth's formulary, complete and submit the form linked on this page.
PromptPA Online Prior Authorization Request
How to Write
Step 1 – Download the form in Adobe PDF.
Step 2 – Enter the prescriber's name, specialty, and address.

Step 3 – State the brand/generic names, the dosage, the strength and the manufacturer of the drug you wish to be added to the formulary. If there are formulary agents available in the same therapeutic class or for the same indication, list them in the second window. Describe the advantage of the recommended drug. If you are affiliated with the drug's manufacturer, explain how. If not, indicate that this is not the case.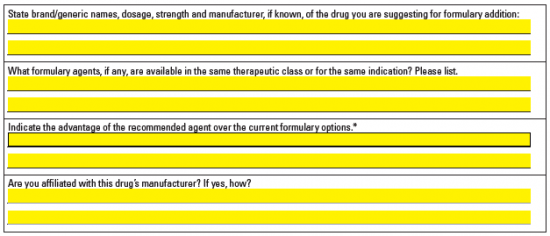 Step 4 – Enter the date, print the form, provide your signature, and fax the completed document to 1 (877) 300-9695. Alternatively you can send it by email to clinicalpharmacy@emblemhealth.com, or by mail to the below address.
EmblemHealth,
Attn: Clinical Pharmacy Department,
441 Ninth Avenue, New York, NY 10001