EnvisionRX Prior Prescription (Rx) Authorization Form
The EnvisionRX Prior Prescription (Rx) Authorization Form allows prescribers to request coverage for a particular treatment, one which generally isn't covered by the insurance company. Supporting information and pertinent medical history should be defined within the form in order to plead the case for the patient. Any previously used medications should be mentioned as well to indicate to the insurance company that other solutions have been attempted and have failed to resolve the illness or to treat its symptoms effectively. This type of request can be made online as well by following the link provided below.
How to Write
Step 1 – Begin by downloading the EnvisionRx prior authorization form.
Step 2 – Once open on your screen, both the patient's and the prescriber's information will be required. You must supply the following patient info:
Name
Member number
Date of birth
Group number
Address
City, State, Zip
Member phone
To the right of this window, enter in the prescriber's info (as detailed below).
Fax number
Phone number
Office contact
NPI
State Lic ID
Address
City, State, Zip

Step 3 – Supply the name of the drug and check the box to indicate that the situation is urgent (if this is the case). Directions should be supplied in the field below this.

Step 4 – As mentioned on the form, attach any pertinent information that may help support the request. Next, answer the six (6) questions in the applicable window to further plead your case.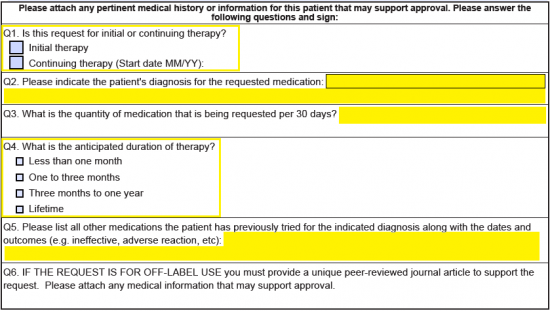 Step 5 – At the bottom of the form you can enter the date and your signature (once document has been printed off). Send the completed form and any additional documentation via fax to 1 (877) 503-7231.