Anthem Blue Cross / Blue Shield Prior Prescription (Rx) Authorization Form
The Anthem Blue Cross / Blue Shield prior authorization form is a simple document used to request a non-formulary drug for a patient and member of Anthem Blue Cross/Blue Shield. The prescriber should complete the document in full, answering the series of yes or no questions which will enable the reviewer to determine whether medical coverage is justified. The likely-hood of receiving coverage is often determined by the number of alternative and formulary prescription drugs the patient has been administered prior to making the request.
How to Write
Step 1 – Download in Adobe PDF.
Step 2 – Specify the drug name in the top-most field.

Step 3 – The patient information is required next. Enter their full name, patient ID, group number and date of birth.

Step 4 – The full name of the prescribing physician will be required along side the NPI, phone and fax numbers, and full address.

Step 5 – In the fourth window, the justification for the prescribing of the non-formulary drug begins. The diagnosis and ICD code should be submitted at the top. Next, check the applicable check box for each of the seven (7) questions posed.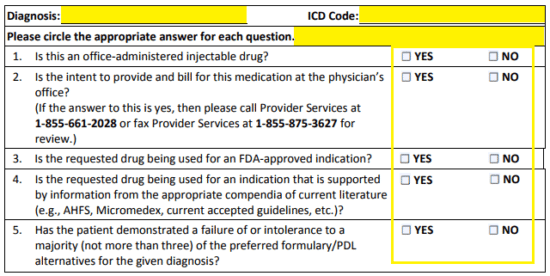 Step 6 – Supply any necessary comments then sign and date the document. It can be faxed to 1 (855) 875-3627 once completed and double-checked for accuracy.