Bank of America Direct Deposit Authorization Form
The Bank of America non-federal direct deposit form is for the employee wishing to authorize automatic deposits into their checking or savings accounts. The form has been made available below in five different languages to suit your specific needs. Once completed, the document should be signed, dated, and reviewed by the employer/company in question. To the benefit of the payee, this form allows the funds to be allocated into three separate accounts; however, it would be wise to ensure that your employer is comfortable with this arrangement prior to submitting the document for review.
How to Write
Step 1 – Begin by downloading the document in Adobe PDF. For the English version, click here. For any other language, select one of the links above.
Step 2 – The first fields of the form will have you entering in the employer/company name along with the employer's address. Be sure to read the disclaimer below the fields to fully understand what it is you are authorizing.

Step 3 – You may choose to have the funds deposited into a single account, or multiple accounts with the percentage or dollar amount indicated for each. For every account, supply the following:
Account type
Account number
ABA routing number
Deposit amount (percentage/flat amount/remaining)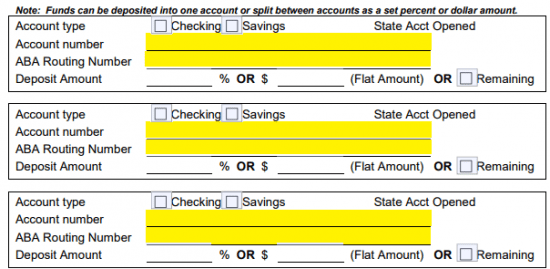 Step 4 – Provide here, your full name and address along with your telephone number. When you've double checked that all information on the form is 100% accurate, you may print it off, provide your signature and the date, and present it to your employer/company to be reviewed.