Amerigroup Prior Prescription (Rx) Authorization Form
The Amerigroup Prior Prescription (Rx) Authorization Form will be necessary for any Amerigroup member if they wish to receive compensation for non-preferred medication or one which is outside of FDA labeling. The form should be downloaded and completed in its entirety by the individual prescribing the medication, complete with justification for the prescription. As noted on the form, submissions of this nature are reviewed based on medical necessity and in all cases, a review period of at least twenty-four (24) hours can be expected.
How to Write
Step 1 – Download the form in Adobe PDF. For your benefit, we've made the document fillable on your computer; however, you may choose to fill it out by hand.
Step 2 – The first section of the form is dedicated to the member information. Provide the following info into the applicable spaces to get started:
Full name
Amerigroup ID #
Date of birth
Place of residence
Administration site
Height
Weight
Sex

Step 3 – Under "Medication Information," provide the requested drug name and strength. Beside that, the dose, frequency, and duration must be specified. Supply the diagnosis and/or indication along with the HCPCS billing code and ICD code.

Step 4 – This next window will begin justifying the application of the new medication. To start, answer "Yes" or "No" when asked whether the member has tried other medications. If "No," explain the reasoning. If "Yes," supply the following:
Drug(s) name and strength
Date range of use
SIG
A description of adverse reaction, inadequate response, or other negative result from attempted medication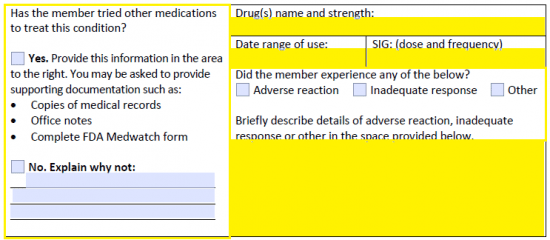 Step 5 – There is space on the second page to accomplish the following:
Describe the medical necessity for prescribing the proposed drug and requesting coverage
Include a list of all current medications including dose and frequency
Insert any other pertinent information

Step 6 – Any studies or lab tests which have been performed in the past thirty (30) days should be relayed in the table provided.

Step 7 – The prescriber information that is required is similar to that of the member. Submit the below data into the applicable fields.
Full name
NPI#
DEA/License #
Address where service was rendered
City
State
ZIP code
Phone number
Fax number
Office contact name
Contact direct phone number

Step 8 – The billing facility's name, address, contact info, and ID numbers will be required in this window.

Step 9 – Finally, the pharmacy info can be submitted before supplying the date, printing off the document, and signing the form. Fax the completed prior authorization form to the number listed on the form to submit the request for review.