PriorityHealth Prior Prescription (Rx) Authorization Form
A PriorityHealth Pharmacy Prior Authorization Form is a way for plan members to receive coverage for non-covered medication. This form should be completed by the prescriber or healthcare professional in order to provide sufficient justification for the necessity of the non-formulary to treat their patient's current diagnosis. The below form can be used for commercial, medicaid and MIChild insurance. Once completed, fax to 1 (877) 974-4411 or 1 (616) 942-8206.
How to Write
Step 1 – Download the form in Adobe PDF to begin.
Step 2 – Once the form is open on your computer, check whether or not the request is urgent or non-urgent.

Step 3 – The first window requests the member's full name, ID #, date of birth, gender, and physician's name. Next supply the following info pertaining to the provider:
Provider name
Phone number
Fax number
Address
NPI
Contact name
Once the form has been printed off, the date of signing and the signature can be supplied.

Step 4  – Here the product information can be supplied. This will require all of the below data.
Medication request
Start date
Strength of medication
Date of last dose (if applicable)
Dosing frequency
Anticipated length of therapy

Step 5 – Here is where the medical reasoning for the non-covered medication can be supplied. List the patient's medical condition and explain the medical reasoning in paragraph format. A full list of previously attempted drugs to treat the conditions should be supplied and below that, any additional information that may support the argument.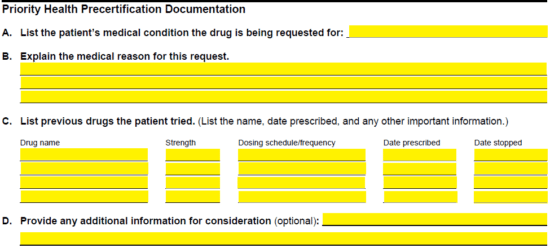 Step 6 – Print off the form, provide the provider signature as mentioned in step 3, then fax the completed form to the numbers found at the top of the page.