Boy Scouts of America (BSA) Activity Consent Form
The Boy Scouts of America activity consent form is a simple document that should be completed by any Cub Scout, Boy Scout, Varsity Scout, Venturer, or accompanying guest prior to participating in a trip or excursion with the Boy Scouts of America. Due to the adventurous nature of the program, those involved are required to submit this document ensuring that they're aware of the risks involved. Signing the document means the signer agrees not to hold the Boy Scouts of America accountable for any personal injury, death, or other loss that may arise.
How to Write
Step 1 – Download in Adobe PDF (.pdf).
Step 2 – The full name of the participant must be submitted at the top of the form.

Step 3 – Below the name fields, submit the date of birth, age during activity, and full address of the participant. Supply next the name of the activity and the dates the participant will be involved in said activity.

Step 4 – Read the form in its entirety. If there are any participant restrictions, submit them in this empty field. If not, check the "None" box.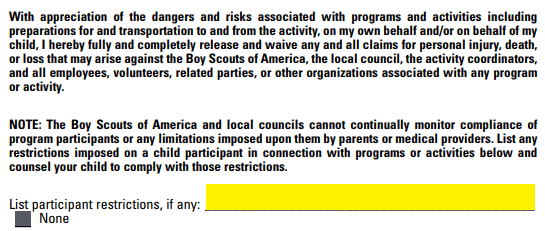 Step 5 – At the bottom of the form, the participant's signature and the date of signing will be required. Below this, the parent/guardian printed name and signature should be supplied along with the date of signing. The contact information for the best contact and emergency contact should be supplied. The adult leader of the troop should submit their name, phone number, and email as well.