The sexual consent form is a clear written admission of consent between a "Consenter" and "Proposer" that relays in no uncertain terms the sexual acts the Consenter is comfortable with and willing to perform. It is a requirement that the Proposer and Consenter both be sexually attracted to each other. This document enables two consenting adults to relay in complete detail the acts they are willing to engage in to eradicate the possibility of rape and sexual assault.
How to Write
Step 1 – Download in Adobe PDF (.pdf).
Step 2 – The day the agreement is made must be specified along with the month and year. The name of the Proposer and that of the Consenter must be specified on the second line.

Step 3 – The time that the sexual acts will occur should be relayed at this point along with the amount of time they will be engaged therein.

Step 4 – Here is where the Proposer will initial next to each sexual act they are comfortable with performing/receiving. The Consenter should then do the same.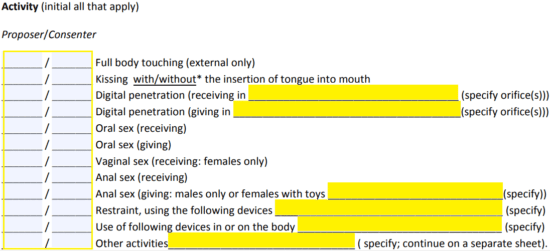 Step 5 – Both the Proposer and the Consenter will need to indicate the contraception they are using on an ongoing basis if any. They must both then specify the methods of contraception and/or protection they will be using during vaginal/anal penetrative sex.

Step 6 – In the "Ratchet Clause," both parties must initial next to one of the three (3) options to establish the manner in which this form dictates consent.



Step 9 – Check the applicable option here to dictate the nature of an accidental violation and the manner in which a violation will be regarded.

Step 10 – Both parties must sign before a witness and the witness must also supply their signature.